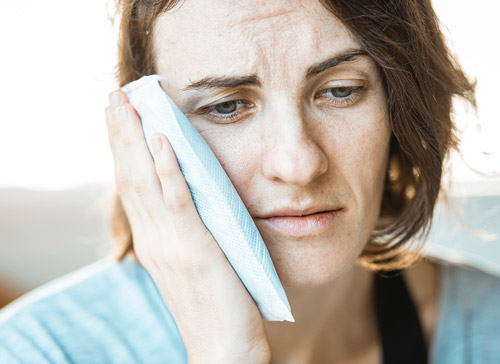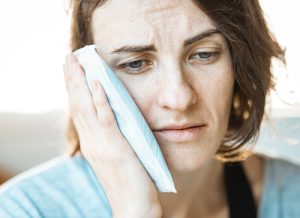 TMJ disorders affect the jaw joint and the surrounding muscles. The temporomandibular joint, which is found on both sides of the head is vital in all head and neck movements. This joint can become displaced or swollen due to many different reasons. In most cases, TMJ disorders are caused by teeth grinding, clenching the jaw, or even aggressive chewing. Stress will also increase the discomfort and exacerbate the symptoms of TMJ discomfort.
TMJ can cause jaw pain as well as many other symptoms, making it difficult to diagnose. The most common TMJ symptoms are jaw pain, popping or clicking in the jaw when chewing, limited ability to open or close the jaw, swelling in the face, neck or shoulder pain, headaches, toothaches, and earaches with or without ringing in the ears. Some patients believe they have a headache disorder, when in fact, it is the TMJ disorder that will cause frequent, and sometimes severe, headaches and facial pain.


Botox will not treat the root cause of TMJ, but can be very successful in relieving the TMJ pain and discomfort that can be difficult to live with. Once the Botox is administered, pain will be relieved. In many cases, once the muscles unclench and are able to relax, the relief is measurable. Facial pain, headaches, swelling, and discomfort can all be eased, creating the opportunity to address the root cause of TMJ. Most Botox treatments will last 3-4 months. The procedure itself is quick and you can return to normal life immediately, although rubbing or massaging the area and laying flat should be avoided for a few hours. In case of discomfort, a cold pack will most likely provide enough relief. Most patients feel improvements within a day or two, and notice a bigger difference several days after the initial treatment.
Relief from TMJ pain can greatly increase quality of life. Many patients are often frustrated by inefficient treatments and are looking for something that will make a lasting impact, and Botox can be the answer.
Same-Day Crowns – While You Wait
Instantly complete your smile after you've had an extraction. Jon Frankel Dentistry offers same-day crowns using our CEREC technology. We can mold and mill the crowns while you wait, helping you restore your beautiful smile in about an hour.
What Our Patients Are Saying
"Excellent as always. My wife & I have been going to Frankel's since the late '60's, and have no plans to change."
-Richard M.
"Thanks to the amazing staff who did an Awesome job at making my 5 yr olds first experience with a filling a positive one. The first thing she said when she was finished was 'everyone is so nice.' "
-Cara E.
"Very professional, positive experience having my teeth cleaned. From the friendly greeting by the receptionist, to the assistant who escorted me to my room, to the hygienist who cleaned my teeth–and the final check-in by Dr. Frankel, I felt well treated and in great hands."
-Patrice K.
Jon Frankel Dentistry (Toledo)
5012 Talmadge Road, Toledo, OH 43623
Phone: (419) 474-9611 | Fax: (419) 474-1902
Hours
| | |
| --- | --- |
| Monday & Tuesday: | 7:30am -8:00pm |
| Wednesday & Thursday: | 7:30am -5:00pm |
| Friday: | 7:30am -2:30pm |
| Every other Saturday | 8:00am – 12:00pm |
---
Frankel & Puhl Dentistry (Maumee)
4359 Keystone Dr, Maumee, OH 43537
Phone: (419) 893-0221 | Fax: (419) 893-3255
Hours
| | |
| --- | --- |
| Monday – Wednesday : | 8:00am – 5:00pm |
| Thursday: | 8:00am -7:00pm |
| Friday: | 8:00am -2:30pm |
| Every other Saturday | 8:00am – 12:00pm |