Living with missing or damaged teeth is more than just an oral health concern. Patients with bad teeth often struggle with embarrassment, pain, and discomfort. Social situations, eating, and even talking can be a challenge. While dentures and conventional dental implants can help, both options have their drawbacks and limitations. A Hybridge Full Arch Dental Restoration is a permanent, fixed solution that is efficient, affordable, and long-lasting. Hybridge is a trusted brand with a long track record of success, and Frankel Dentistry has Hybridge Certified dentists located in Maumee, Ohio and Toledo, Ohio.
What are Hybridge Dental Implants?
Hybridge dental implants are more than just implants – they are a prosthetic restoration that uses a clinical technique specifically designed for this procedure. With only 5 or 6 dental implants, 12 teeth can be permanently restored on the upper or lower jaw, and patients are never without teeth during the process. A Hybridge Certified dentist in Maumee, Ohio, can give patients who struggle with missing or unhealthy teeth a beautiful, long-lasting new smile in as few as three appointments for a fraction of the cost of conventional dental restorations and many other full arch solutions available today.
What is the Difference Between Hybridge and Conventional Implants?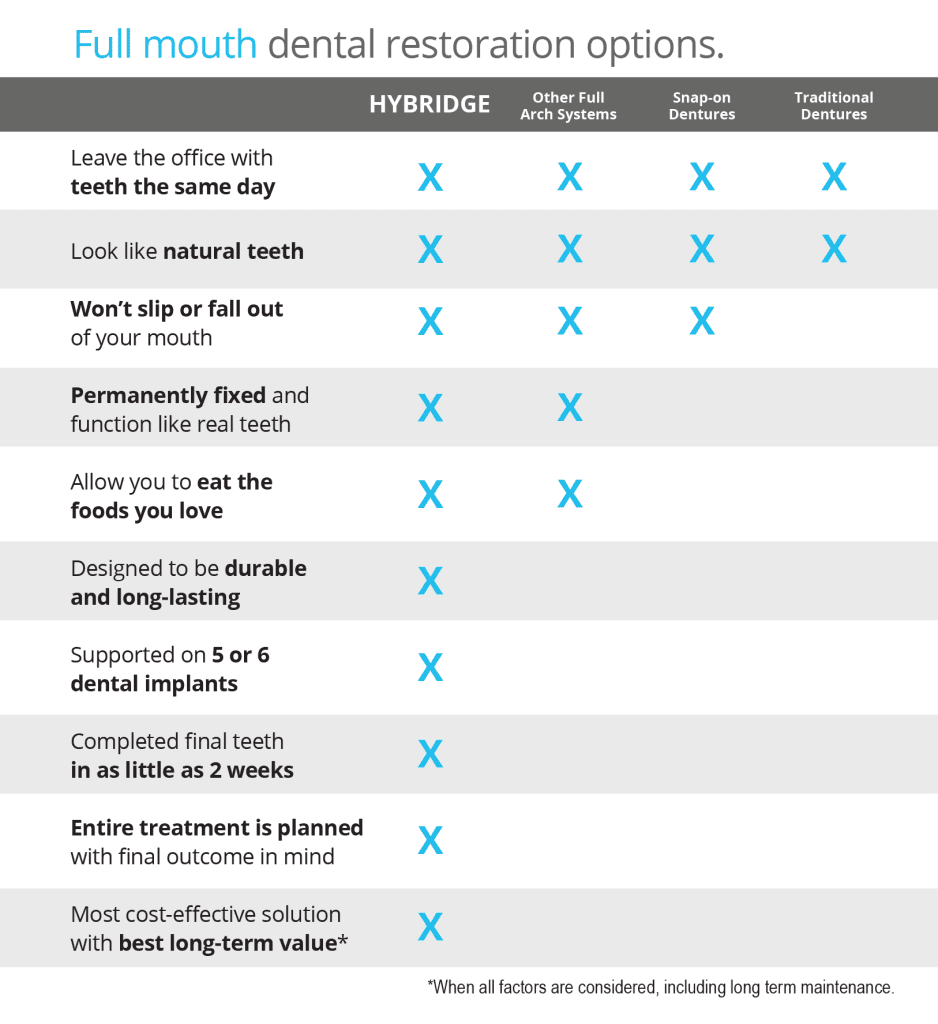 Conventional dental implants typically attach a bridge or porcelain crown to the jawbone using a titanium post. This method is commonly chosen by patients looking to replace a few missing teeth. Another alternative for comprehensive teeth replacement is removable dentures. However, both options have limitations, such as restricted food choices and an extended treatment duration, which might affect your confidence.
Hybridge offers a versatile solution suitable for individuals seeking complete permanent tooth replacement, those with remaining natural teeth, and even those requiring only a few teeth replaced. The treatment process, which may extend to 18 months, is designed to be thorough.
Hybridge is not classified as a conventional implant; instead, it's a prosthetic restoration comprising a cross-linked PMMA and chrome cobalt bridge that can replace up to twelve teeth. The treatment duration can vary but can often be completed within just a few weeks, with the possibility of extension if additional dental procedures are necessary. One of the key advantages is that you won't have to go without teeth, as temporary teeth can be provided during your initial appointment.
Upon completing Hybridge treatment, you'll regain the freedom to enjoy your favorite foods and feel more self-assured in your smile. This innovative solution offers a long-term option for your dental needs.
Hybridge is a Cost-Effective Solution to a Lasting Smile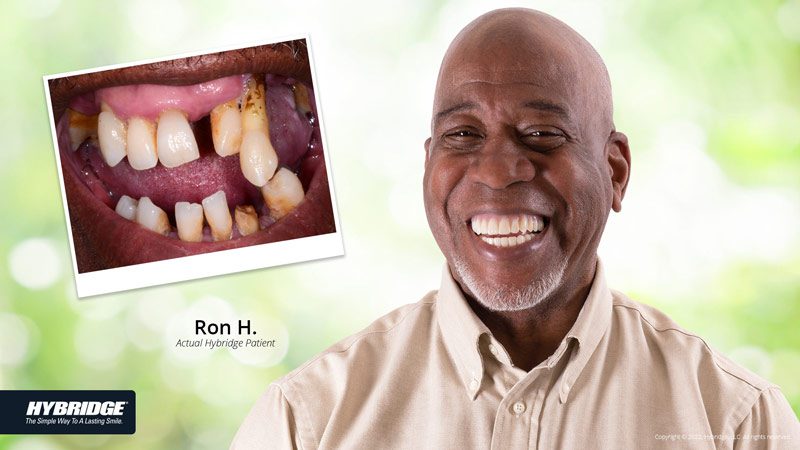 The cost of the Hybridge Full Arch is typically less than half the cost of conventional implant bridgework. Many variables can impact the total cost of treatment, and each patient will have a cost estimate before beginning treatment. Another cost-effective benefit of the Hybridge Full Arch is that it can be repaired if fractured or chipped, usually at a nominal cost. Conventional implants consisting of porcelain crowns cannot be repaired and require replacement when broken, which can be very expensive.
Understanding Hybridge: The Full Mouth Solution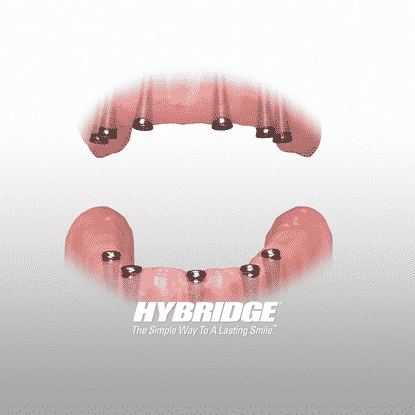 A dental implant is a synthetic replacement for the root of the tooth. When a patient loses a tooth due to decay, injury, or congenital reasons, an implant is attached to the bone. Over time, the implant will fuse to the bone, providing a strong foundation for a replacement tooth. In some cases, where there has been damage to the bone, bone grafting may be necessary first. Every patient will have a thorough scan to determine the exact anatomy and dimension of the bone to ensure that the implant is crafted correctly. The implants will be placed surgically, and, once healed, the final structure will be fabricated and cemented. The success rate for these implants is over 95%.
Compromised teeth can create a cycle of endless dental work that is both time-intensive and expensive, as well as only being a temporary solution. With Hybridge Full Mouth Dental Implants, many of the problems associated with conventional treatments are eliminated. The permanent titanium dental implants provide the right stimulation for bone growth and health.
What Patients are Saying About Hybridge Full Mouth Dental Implants
Many patients are excited to share their experiences. Patients report they can eat the food they love, smile with confidence, and have teeth that look better than their natural teeth ever did. Many patients report that no one can tell that the Hybridge implants are even there. The simple design of the full mouth implant makes it easy to keep clean and problem-free.
Check Out Our Smile Gallery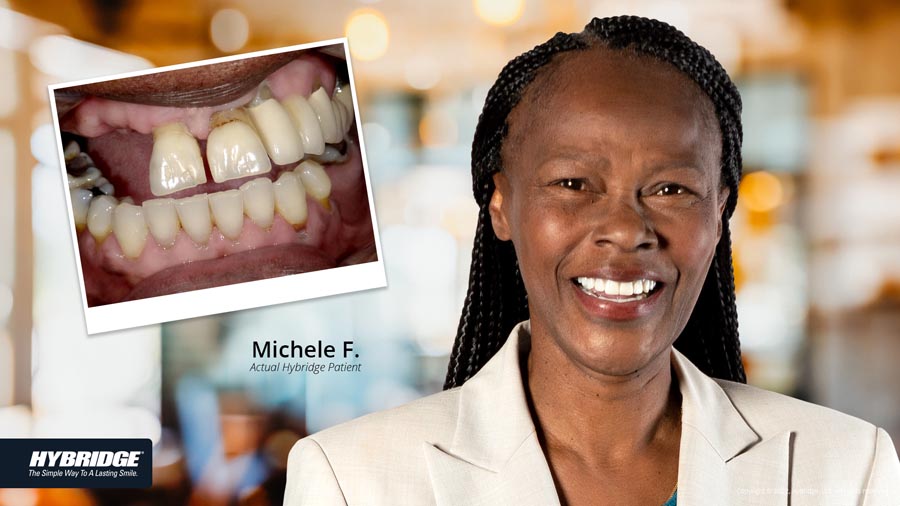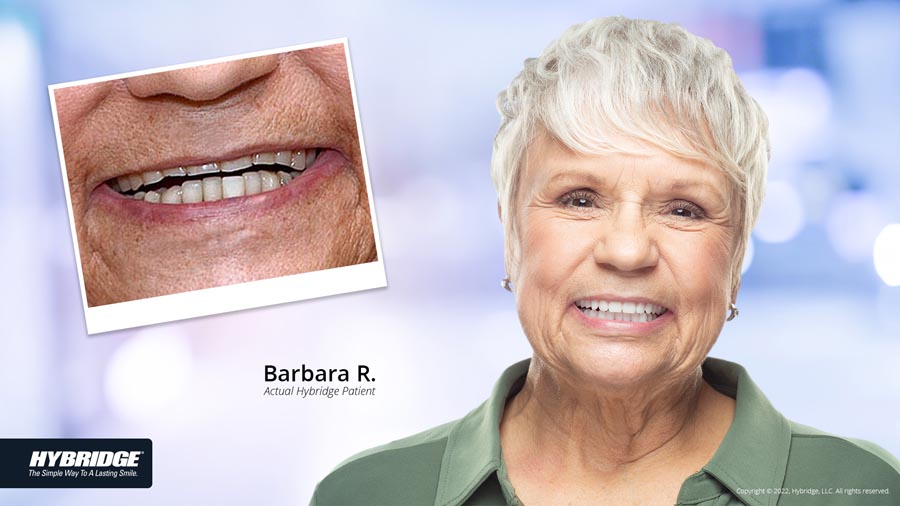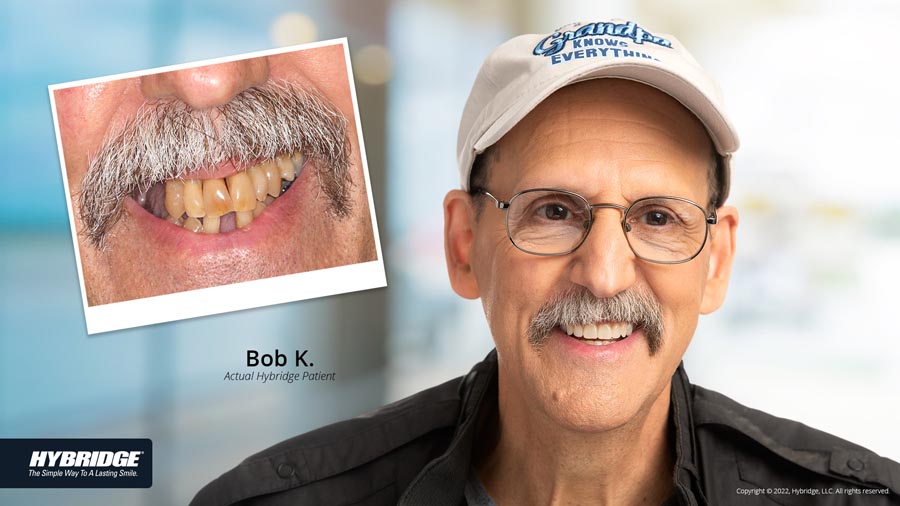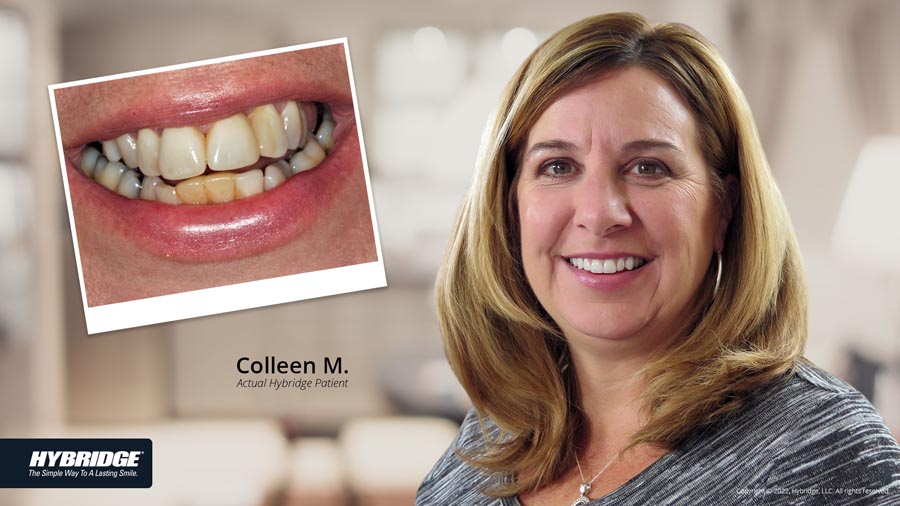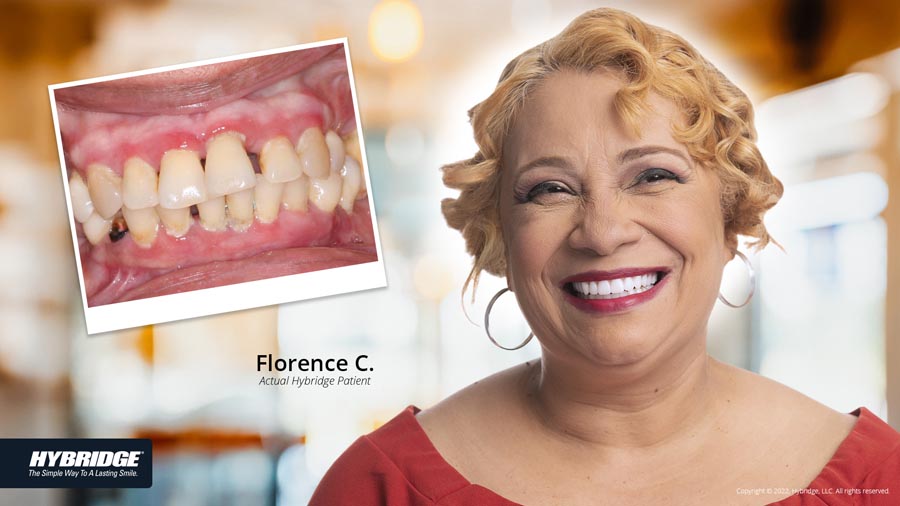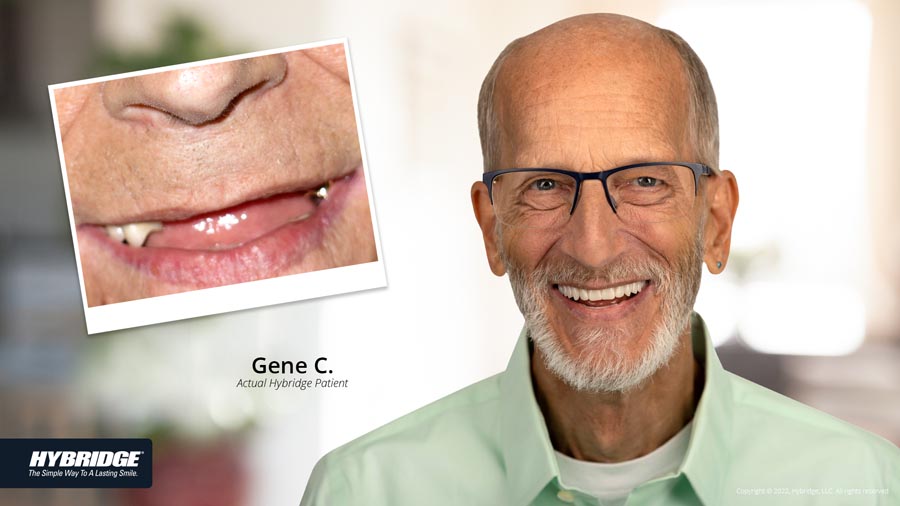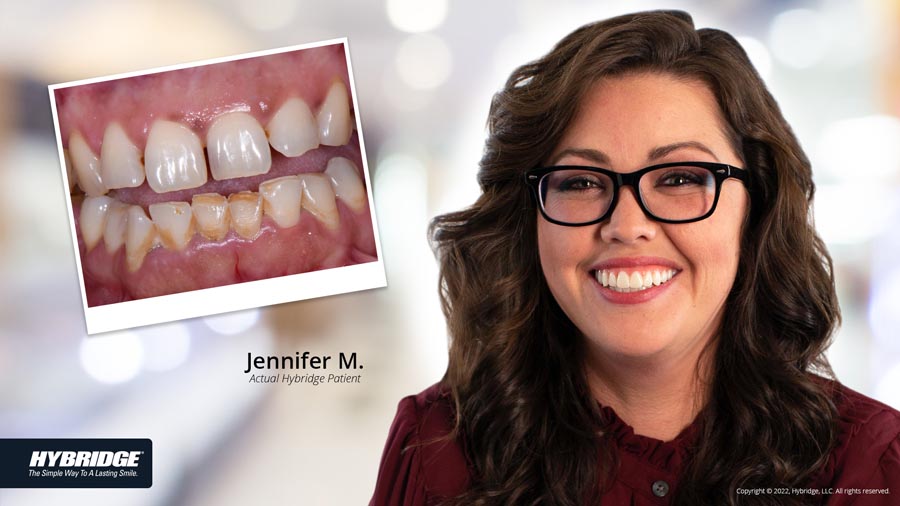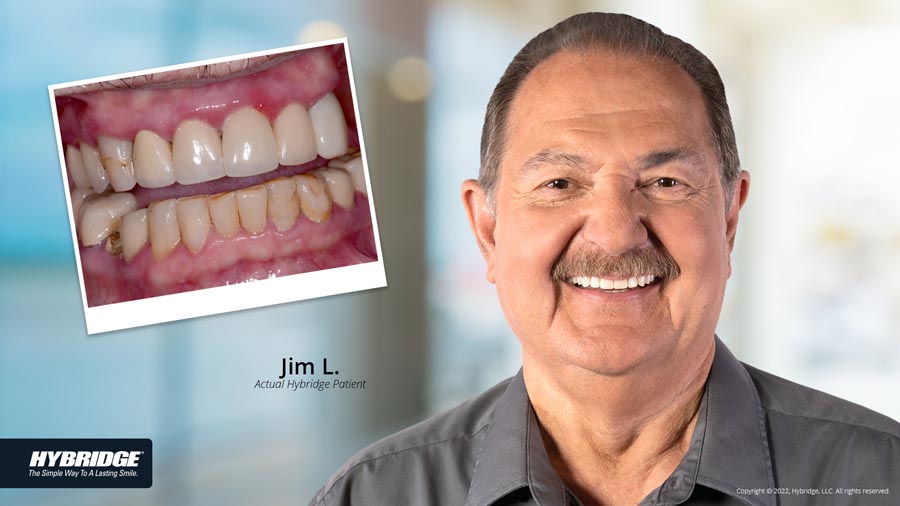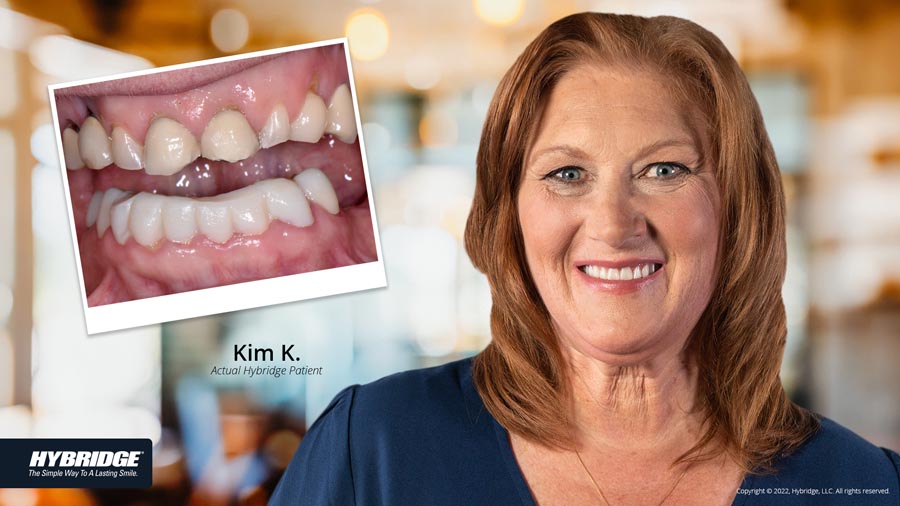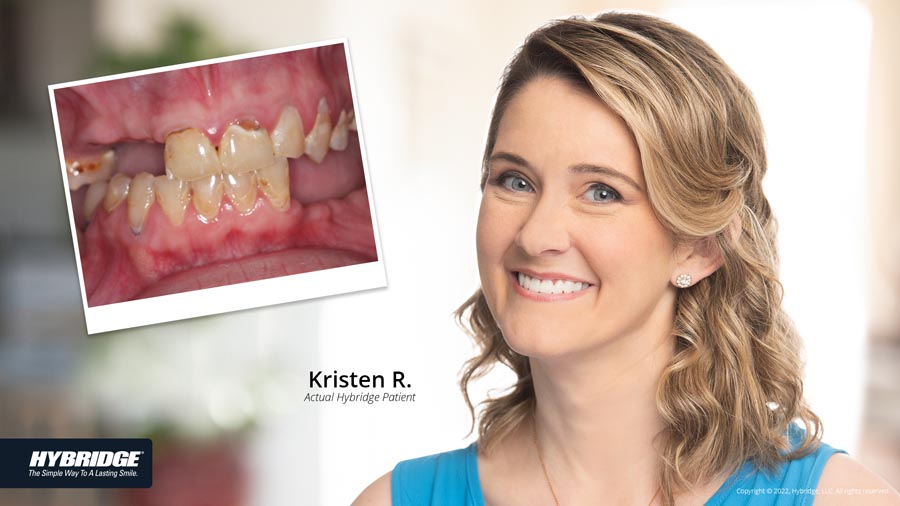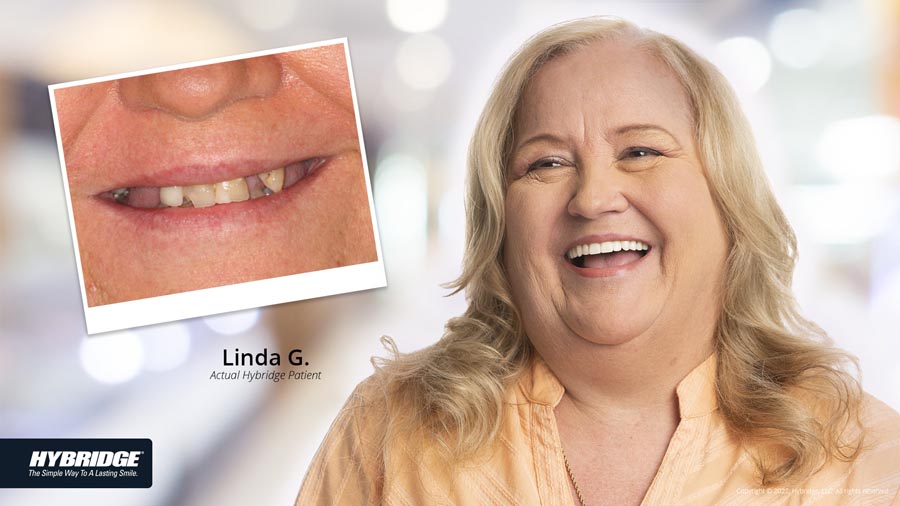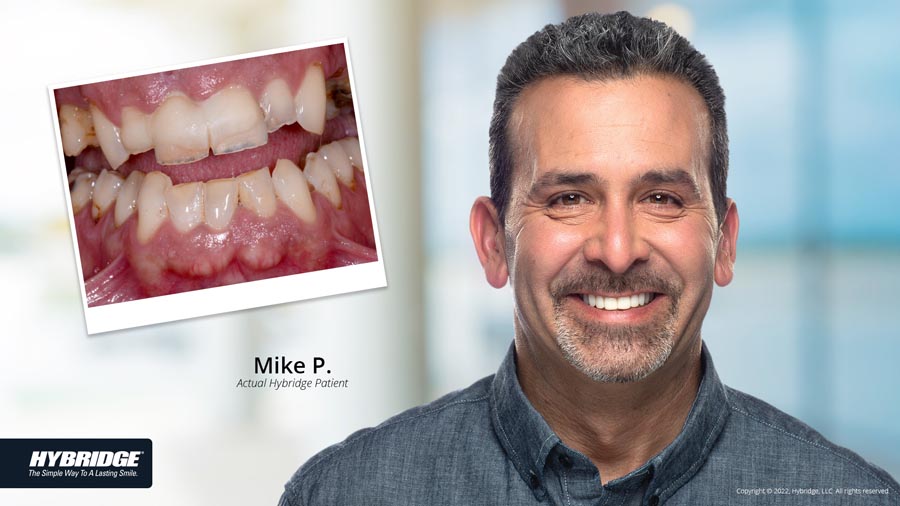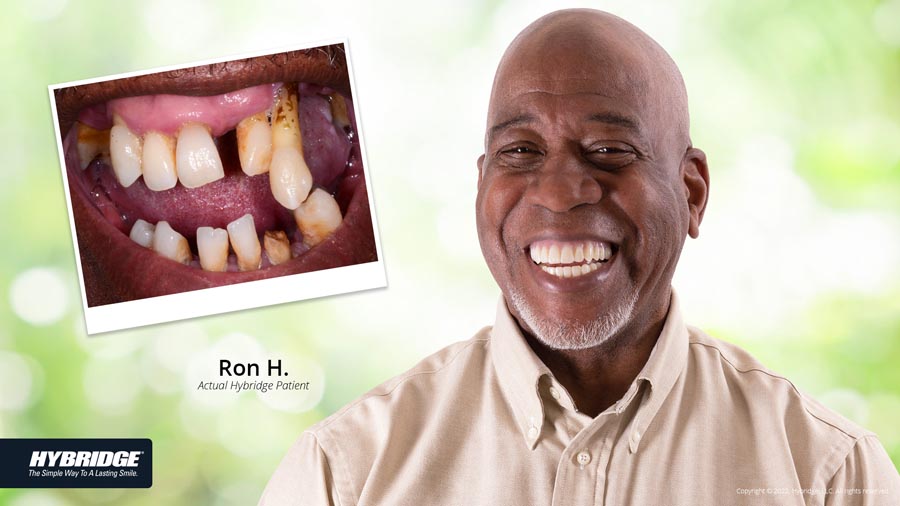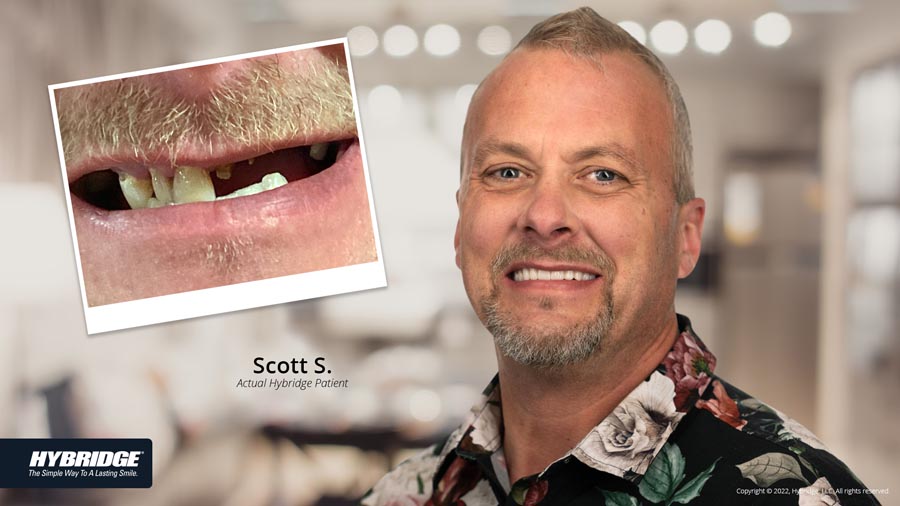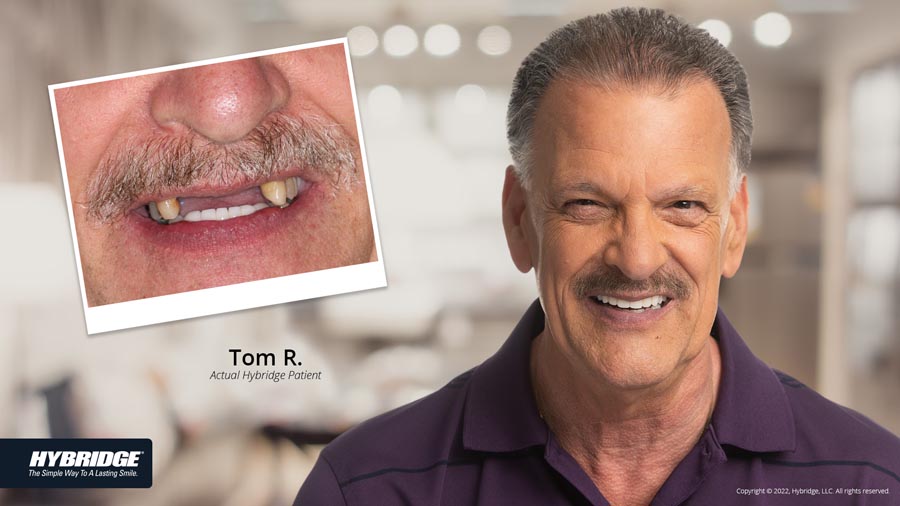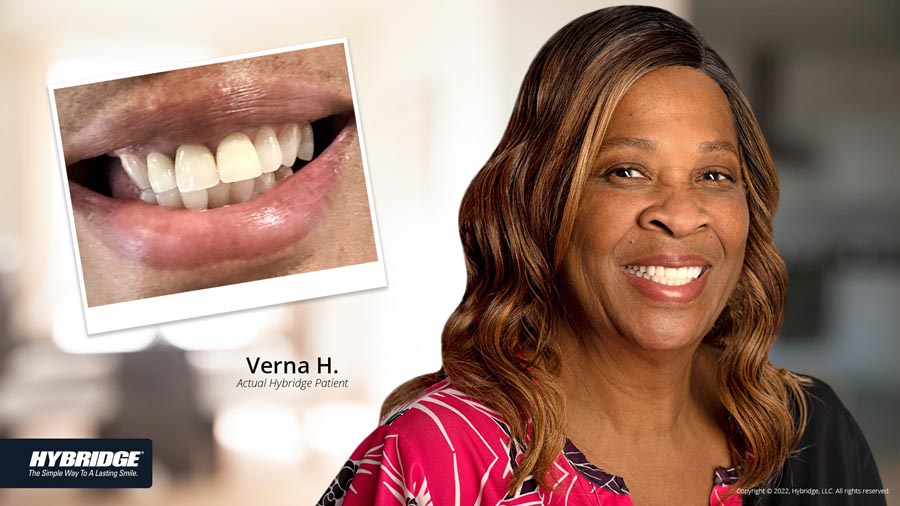 Using a Hybridge Certified Dentist
The only way to get a Hybridge Full Arch restoration in Toledo, Ohio and surrounding areas is by using a Hybridge Certified dentist. Frankel Dentistry has two locations: Toledo, Ohio and Maumee, Ohio. We have Hybridge Certified dentists available at both locations. Dr Westmeyer is a Hybridge Certified dentist in Maumee, Ohio, and Dr. Frankel is a Hybridge Certified dentist in both the Toledo, Ohio and Maumee, Ohio locations. These dentists have gone through training and certification to ensure they are familiar with the uses, methods, and materials of the Hybridge Full Arch restoration. Dentists who are certified in this advanced dental technology can help their patients enjoy the full quality of life that a Full Arch restoration can provide.
Dentures can slip and slide, and even make you look or feel older than you really are. Conventional implants can put you in an endless cycle of treating only a few teeth at a time and constantly dealing with root canals, crowns, and bridgework, all of which can be damaged and require costly repairs. When you are ready to break out of the cycle of treating the same teeth over and over again, it's time to consider Hybridge Dental Implants and see the difference a Full Arch restoration can make for your smile. To learn more about Hybridge Dental Implants, or to see if you are a good candidate for dental restoration, contact our office right away.
Same-Day Crowns – While You Wait
Instantly complete your smile after you've had an extraction. Jon Frankel Dentistry offers same-day crowns using our CEREC technology. We can mold and mill the crowns while you wait, helping you restore your beautiful smile in about an hour.
What Our Patients Are Saying
"Very professional, positive experience having my teeth cleaned. From the friendly greeting by the receptionist, to the assistant who escorted me to my room, to the hygienist who cleaned my teeth–and the final check-in by Dr. Frankel, I felt well treated and in great hands."
-Patrice K.
"I'm very grateful. I came here today, I've had years of dental problems. I came in on an emergency. Just the way they were so gentle and helpful with this procedure is greatly appreciated and I thank you."
-Patient
"Excellent as always. My wife & I have been going to Frankel's since the late '60's, and have no plans to change."
-Richard M.
Jon Frankel Dentistry (Toledo)
5012 Talmadge Road, Toledo, OH 43623
Phone: (419) 474-9611 | Fax: (419) 474-1902
Hours
| | |
| --- | --- |
| Monday & Tuesday: | 7:30am -8:00pm |
| Wednesday & Thursday: | 7:30am -5:00pm |
| Friday: | 7:30am -2:30pm |
| Every other Saturday | 8:00am – 12:00pm |
---
Frankel & Puhl Dentistry (Maumee)
4359 Keystone Dr, Maumee, OH 43537
Phone: (419) 893-0221 | Fax: (419) 893-3255
Hours
| | |
| --- | --- |
| Monday – Wednesday : | 8:00am – 5:00pm |
| Thursday: | 8:00am -7:00pm |
| Friday: | 8:00am -2:30pm |
| Every other Saturday | 8:00am – 12:00pm |