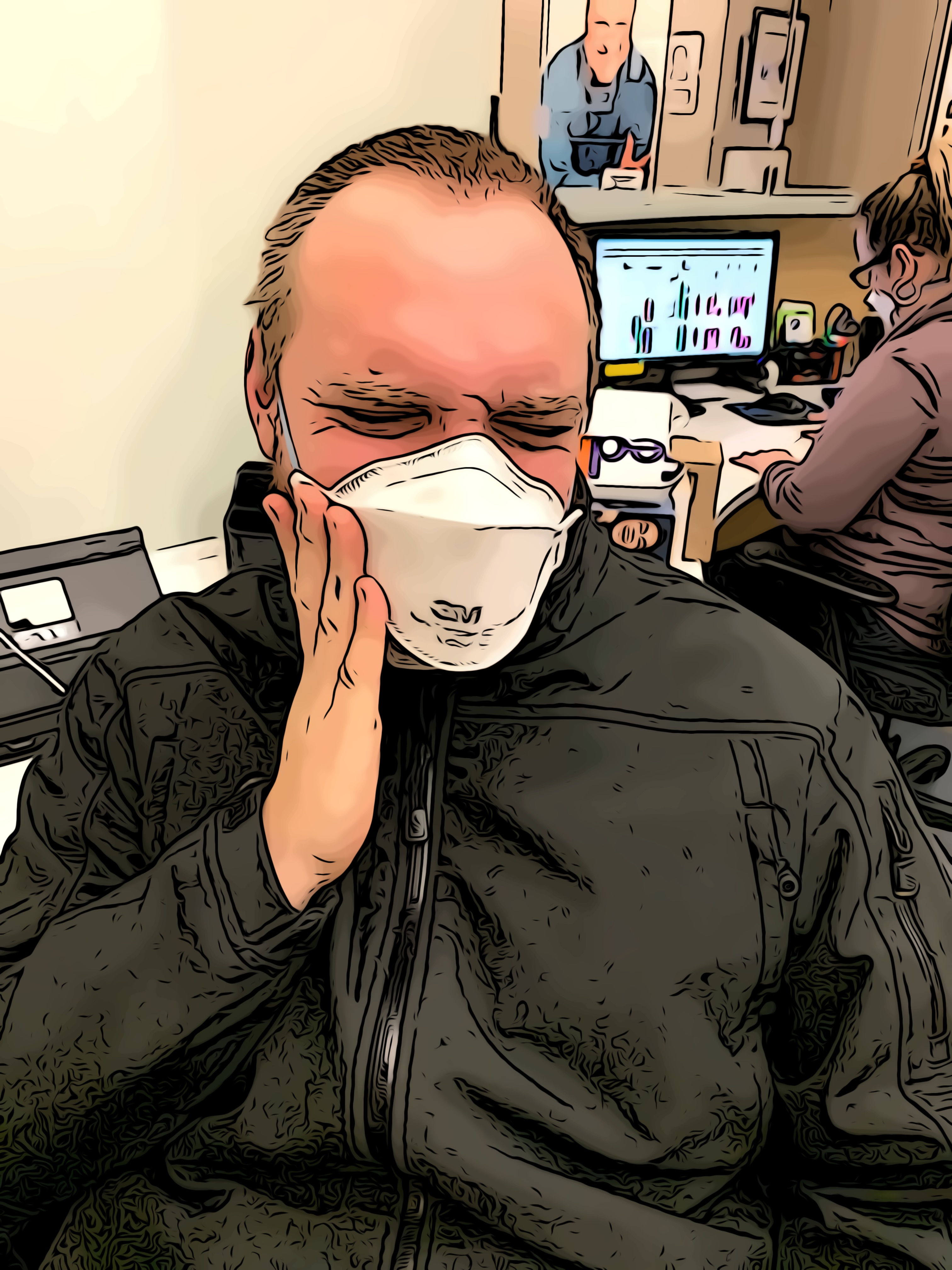 The doctors, healthcare providers, and staff at Frankel Dentistry hear it every day, "Why didn't I come sooner!" Do you have tooth pain but are afraid to find out what is wrong?
Feeling is not believing! Serious dental disease may show up as painful, pain that "comes and goes", or even, no pain at all.
Knowing is powerful. Once you know where you are at with your dental health, you are free to put together a plan to gain and maintain a great smile.
Celebrate your courage to come in. The doctors, healthcare providers, and staff at Frankel Dentistry will welcome you without judgement.
Remember a healthy mouth promotes a healthy body. Especially during the pandemic-strong and healthy is good!
Regularly scheduled dental visits allow you to stay healthy. Dr. Frankel likes to remind patients to take care of small issues before they become big problems. It is a great way to check up with your brushing and flossing at home!
Keep smiling behind the mask. Wearing a mask might make you aware of dental issues you had ignored. It also tends to cause dry mouth. Often you are drinking less water as well. Visiting the dentist will keep you in check.
Frankel Dentistry has protocols in place to keep you COVID safe. Keeping you safe is a top priority at Frankel Dentistry. When you arrive in the parking lot for your appointment, call us at 419-474-9611. Stay in your warm car until we call you back letting you know it is time to enter the office.
Wear your mask as you come in. You will be greeted in the foyer. Your temperature will be taken, and we will ask questions mandated by the CDC. Then, you will be asked to wash your hands. A healthcare provider will then escort you to your appointment. There as HEPA air purifiers throughout the office and the HVAC system has an Air Scrubber.
Patient Testimonial
This was my first visit to Frankel Dentistry, and I had a lovely experience! Everyone was very friendly, knowledgeable, and helpful from start to finish. I was taken back quickly even with all the COVID precautions and screenings. I'm very pleased with my decision to switch to Frankel Dentistry! ML
Jon Frankel Dentistry (Toledo)
5012 Talmadge Road, Toledo, OH 43623
Phone: (419) 474-9611 | Fax: (419) 474-1902
Hours
| | |
| --- | --- |
| Monday & Tuesday: | 7:30am -8:00pm |
| Wednesday & Thursday: | 7:30am -5:00pm |
| Friday: | 7:30am -2:30pm |
| Every other Saturday | 8:00am – 12:00pm |
---
Frankel & Puhl Dentistry (Maumee)
4359 Keystone Dr, Maumee, OH 43537
Phone: (419) 893-0221 | Fax: (419) 893-3255
Hours
| | |
| --- | --- |
| Monday – Wednesday : | 8:00am – 5:00pm |
| Thursday: | 8:00am -7:00pm |
| Friday: | 8:00am -2:30pm |
| Every other Saturday | 8:00am – 12:00pm |