At Frankel Dentistry, we're always excited to lace up our running shoes once again and join the Greater Toledo Dental Society's Miles for Smiles 5k. This annual event is more than just a run; it's a chance for us to support a fantastic cause, come together as a team, and promote a healthy, active lifestyle!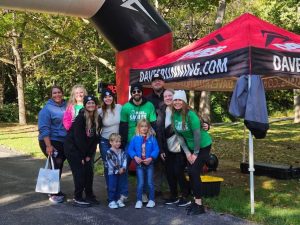 We've participated in the Miles for Smiles 5k for several years now, and each time, it's been an incredibly fulfilling experience. This event is all about giving back to our community, and The Greater Toledo Dental Society gives the opportunity for us to help provide dental care and support to those who need it most.
Our team at Frankel Dentistry is not just about taking care of your dental needs; we're also committed to the well-being of our community! Miles for Smiles allows us to connect with our fellow dental professionals, patients, and friends all while supporting a great cause and getting a few extra steps in.
As dental professionals, we understand the importance of maintaining a healthy lifestyle for overall wellness. Regular exercise is not only great for our physical health but also for our mental well-being. By participating in the 5k, we're not only supporting the dental health of our community but also practicing what we preach – taking steps towards a healthier life! In years past, we've had employees bring their families, volunteer their time, enjoy the walk with their children, and even compete to win!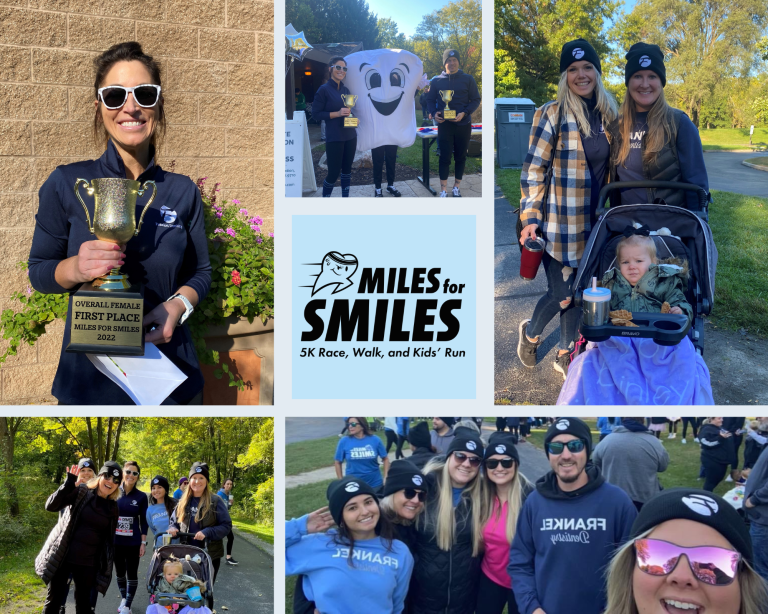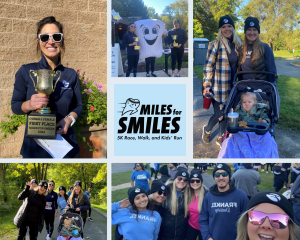 At Frankel Dentistry, we believe in the power of a smile and the difference it can make in people's lives. Together with the Great Toledo Dental Society, we're excited to make a positive impact on our community and take steps towards a healthier, happier Toledo!
Due for a dental visit? Call today to schedule!
Toledo: 419-474-9611
Maumee: 419-893-0221
Jon Frankel Dentistry (Toledo)
5012 Talmadge Road, Toledo, OH 43623
Phone: (419) 474-9611 | Fax: (419) 474-1902
Hours
| | |
| --- | --- |
| Monday & Tuesday: | 7:30am -8:00pm |
| Wednesday & Thursday: | 7:30am -5:00pm |
| Friday: | 7:30am -2:30pm |
| Every other Saturday | 8:00am – 12:00pm |
---
Frankel & Puhl Dentistry (Maumee)
4359 Keystone Dr, Maumee, OH 43537
Phone: (419) 893-0221 | Fax: (419) 893-3255
Hours
| | |
| --- | --- |
| Monday – Wednesday : | 8:00am – 5:00pm |
| Thursday: | 8:00am -7:00pm |
| Friday: | 8:00am -2:30pm |
| Every other Saturday | 8:00am – 12:00pm |