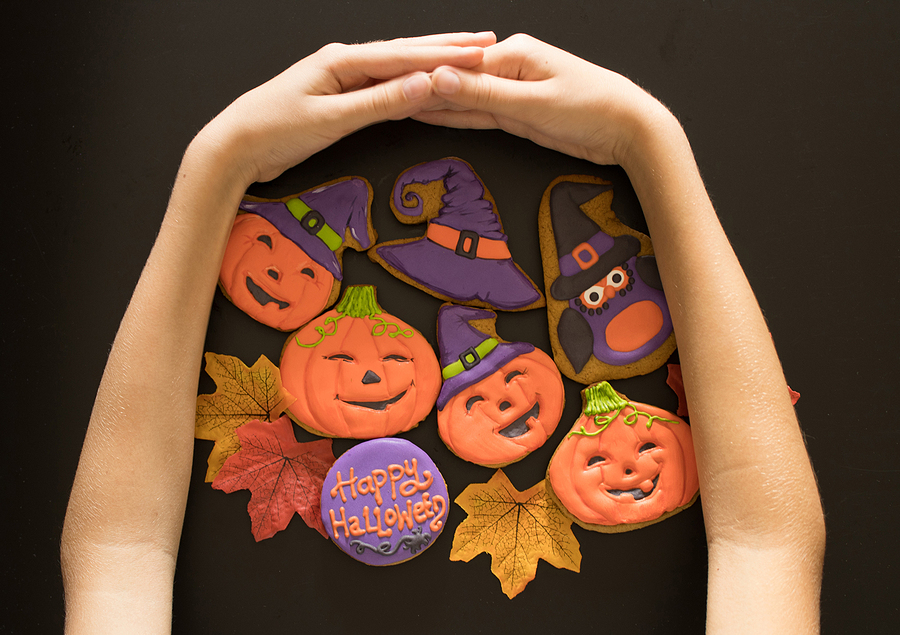 Most people know that less than ideal toothbrushing and sweets lead to tooth decay. When missed by flossing and toothbrushing, colonies of bacteria hug on to every tooth surface. Those nasty, acid-producing bugs thrive on sugar or carbohydrate-heavy foods. 
You can almost imagine teeth cowering in despair as the next flood of acid washes over their once shiny white porcelain-like veneer of enamel.
Could it be that Fall to Winter is the season of anguish for teeth?
Carbs and Cavities
Candy corn, lollipops, sticky caramels, and hard candies start the season and remain stored away in Halloween treat bags, drawers, and secret stashes. Hot mulled cider begins to fill homes with a spicy-sweet scent. Inviting as it smells, the threat of cavities is not so sweet. Just weeks later, pecan and pumpkin pies, sweet potatoes and yams, stuffing, sweet rolls, and more celebrate Thanksgiving.
Teeth are grateful for excellent dental care at home but shudder at the carbo-loaded meals and leftovers. It is difficult to stay strong when subjected to frequent acid baths!  The early autumn horror does not stop for teeth as time moves on.
Holiday Dental Care
As the last month of the year brings the excitement of lights, trees, and gifts once again from incisor to molar the threat of candy canes and chocolate gelt loom ahead. Brisk cold evenings beg for sweet hot chocolate and donuts and the promise of snow. Even Santa faces the dental challenge of cookies and milk. The natural milk sugar lactose can quickly gain on the unbrushed, under flossed teeth.
What is a Tooth Owner To Do?
We encourage you to brush and floss your teeth every day but also pay special attention to your mouth as we move into a season of tasty delights. Follow these simple tips to keep your mouth happy and healthy all year.
Brush and Floss.
Swish with water when brushing is not an option.
Monitor carb eating.
Visit your dentist regularly.
Smile!
When you follow these dental hygiene tips, it helps make sure your smile is merry and bright this coming holiday season.
Jon Frankel Dentistry (Toledo)
5012 Talmadge Road, Toledo, OH 43623
Phone: (419) 474-9611 | Fax: (419) 474-1902
Hours
| | |
| --- | --- |
| Monday & Tuesday: | 7:30am -8:00pm |
| Wednesday & Thursday: | 7:30am -5:00pm |
| Friday: | 7:30am -2:30pm |
| Every other Saturday | 8:00am – 12:00pm |
---
Frankel & Puhl Dentistry (Maumee)
4359 Keystone Dr, Maumee, OH 43537
Phone: (419) 893-0221 | Fax: (419) 893-3255
Hours
| | |
| --- | --- |
| Monday – Wednesday : | 8:00am – 5:00pm |
| Thursday: | 8:00am -7:00pm |
| Friday: | 8:00am -2:30pm |
| Every other Saturday | 8:00am – 12:00pm |