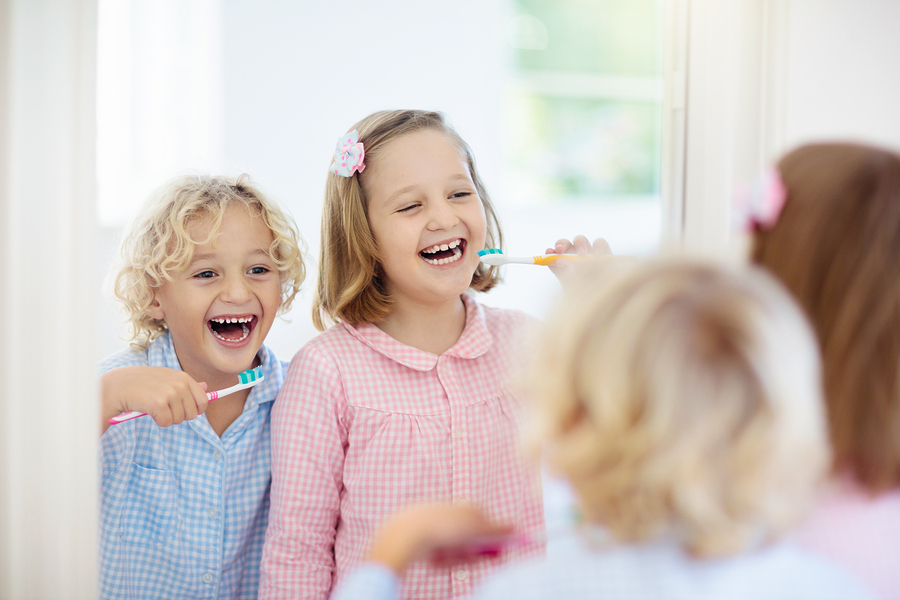 Mornings can be tough, especially for those getting back into the school routine. The start of a new school year means busy schedules and readjusting to those tough school hours. Getting up early and going to bed at a decent hour can be hard for young kids who are still used to the summer schedule. Busy schedules and adjusting to the back to school hours can rush tooth-brushing which can lead to a bad oral hygiene routine. When we rush brushing our teeth we are not doing much to them. Plaque begins forming on your teeth right after brushing, which is why it is so important to take your time and brush for two minutes twice a day.
We know how it can be a struggle to get your kids to brush properly, but did you know that there is an app for that! Actually, there are plenty of apps that help encourage good brushing habits. We have listed our favorite apps that we think you and your family will love.
1. Kids Brush Time-Kill Germs:
Brush Time shows your kids how bacteria ruins their teeth when they don't brush properly. Kids take a picture of their teeth before starting to brush. The picture then will be scanned for pesky germs that will show up on the picture they took. The only way to get rid of these bad germs is to brush them all away. Seeing the germs on their teeth motivates kids to clean them up. Please note that the bacteria shown in the app is only an illustration and does not reflect the actual condition of the teeth.
2. Disney Magic Timer by Oral-B:
The Disney Magic Timer App by Oral-B is an amazing tool to get your kids to brush their teeth for longer. As they brush, hidden Disney, Marvel or Star Wars characters start to appear on the screen. The image will fully reveal itself after the two-minute mark. This encourages your children to brush longer. There are other cool features such as a brushing calendar to help track your kids progress. Try it for yourself!
3. Toothsavers Brushing Game:
A town has been cursed with an evil spell that has left everyone's mouth to rot. It is up to you to save the village by brushing along with Toothy and the Toothsavers. Your kids will have a blast brushing and scrubbing away the evil spell on all the creatures living in the cursed kingdom.
4. Brush DJ:
Do your kids love music? Then Brush DJ might be the perfect app for them. This app plays two minutes of music from your device or streaming service so your kids can jam out while brushing for the proper amount of time. This app also has other features such as videos on how to properly floss, reminders for your next dentist appointment and when to change out your toothbrush.
5. Brusheez-The Little Monsters Toothbrush Timer:
With this app, your kids get to create, play and brush with their monster. Start the app by choosing your brushing buddy. Next, give your monster a makeover. Pick out their outfit, change its hair color and give them a toothbrush. The monster that you have created will be your guide to the perfect brush!
Whether your children are going back to school or struggling with a new morning routine, getting your kids to brush their teeth doesn't have to be a struggle. Try out one of these apps and make brushing fun!
Jon Frankel Dentistry (Toledo)
5012 Talmadge Road, Toledo, OH 43623
Phone: (419) 474-9611 | Fax: (419) 474-1902
Hours
| | |
| --- | --- |
| Monday & Tuesday: | 7:30am -8:00pm |
| Wednesday & Thursday: | 7:30am -5:00pm |
| Friday: | 7:30am -2:30pm |
| Every other Saturday | 8:00am – 12:00pm |
---
Frankel & Puhl Dentistry (Maumee)
4359 Keystone Dr, Maumee, OH 43537
Phone: (419) 893-0221 | Fax: (419) 893-3255
Hours
| | |
| --- | --- |
| Monday – Wednesday : | 8:00am – 5:00pm |
| Thursday: | 8:00am -7:00pm |
| Friday: | 8:00am -2:30pm |
| Every other Saturday | 8:00am – 12:00pm |