With summer in full swing, many individuals are gearing up for vacations, social gatherings, and special summer events! One thing that can significantly boost confidence during these occasions is a bright, white smile. Professional teeth whitening treatments offer a quick and effective solution to enhance the appearance of teeth, giving individuals the confidence they desire. At Frankel Dentistry we offer 4 different whitening treatments! Whether you're looking for an in office or at home solution, we have you covered! Why do we love professional whitening at Frankel Dentistry? Here's why: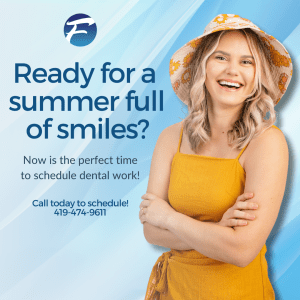 A Brighter Smile, Faster!
Professional teeth whitening treatments provide almost immediate results, often lightening teeth by several shades in just one session. Our Uphoria Whitening leaves you 4 shades lighter in just four minutes! This quick transformation can enhance the appearance of your smile, making it look healthier, more vibrant, and more youthful. Whether you have tooth stains from coffee, tea, red wine, or tobacco, professional teeth whitening can effectively remove these stains, leaving you with a bright, white smile.
Boosts Self-Confidence!
A confident smile can positively impact social interactions and boost self-esteem. By improving the color of your teeth, teeth whitening can help you feel more confident in your  appearance.Feeling good about your smile can have a ripple effect on your overall confidence and well-being.
Better, Longer Lasting Results!
Professional teeth whitening treatments are designed to provide long-lasting results. While how long whitening lasts may vary depending on factors such as lifestyle habits and oral hygiene practices. However, the effects of professional whitening can typically last for several months to a year. By following proper oral care routines and avoiding staining substances, you can extend the longevity of your whitened smile throughout the summer and beyond.
Professional Dental Care
At Frankel Dentistry, before helping you make a decision on the best whitening for you, we make sure to assess your oral health and any underlying dental issues to help determine if teeth whitening is suitable for you. Throughout the treatment process, we will monitor your progress, ensuring that the whitening is effective and safe. This personalized care and attention contribute to a more successful, satisfactory, and pain-free result!
Thinking about whitening? At both our Toledo and Maumee offices we offer:
uPhoria Whitening
Philips ZOOM!
KOR
Custom take home whitening trays
Check out our social media for some amazing before and afters!
View this post on Instagram

A confident smile can make a significant difference in how you feel and present yourself. Get ready to shine and make lasting memories with a radiant, white smile. Call today to schedule with us or visit us online!
Toledo: 419-474-9611 Maumee: 419-843-0221
Facebook & Instagram
Jon Frankel Dentistry (Toledo)
5012 Talmadge Road, Toledo, OH 43623
Phone: (419) 474-9611 | Fax: (419) 474-1902
Hours
| | |
| --- | --- |
| Monday & Tuesday: | 7:30am -8:00pm |
| Wednesday & Thursday: | 7:30am -5:00pm |
| Friday: | 7:30am -2:30pm |
| Every other Saturday | 8:00am – 12:00pm |
---
Frankel & Puhl Dentistry (Maumee)
4359 Keystone Dr, Maumee, OH 43537
Phone: (419) 893-0221 | Fax: (419) 893-3255
Hours
| | |
| --- | --- |
| Monday – Wednesday : | 8:00am – 5:00pm |
| Thursday: | 8:00am -7:00pm |
| Friday: | 8:00am -2:30pm |
| Every other Saturday | 8:00am – 12:00pm |