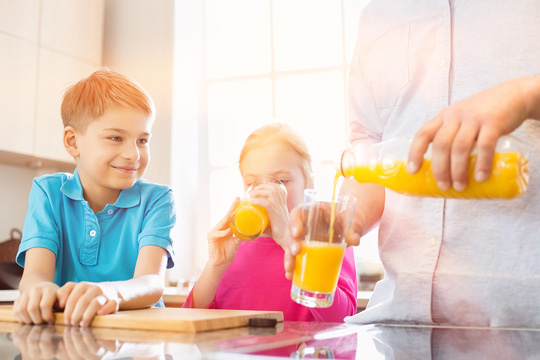 As adults, we know it is very important to stay hydrated by drinking water. Not only does this help our teeth stay healthy and strong, but it is equally important for young children – especially babies.
New guidelines have been released stating children under the age of 1 should not be given any type of juice. Fruit juice does not provide young children with any nutritional benefit. Nutritionist such as, Sharon Zarabi, says : "When you isolate fruit into a liquid form, you're mostly getting sugar water, and it's easy to consume excess calories in liquid form, and those calories can add up, and they're void of any protein or fiber, which is usually what helps keep people satiated."
In addition, new guidelines have been set for toddlers (ages 1 – 3) stating they should only be allowed 4 oz of fruit juice, children ages 4 – 6 are allowed 4 – 6 oz and children over 7 should only consume 8 oz (1 cup) per day. If your child does want a fruit drink on occasion, it's important to read the labels and chose beverages that say "real fruit juice" and not beverages that don't contain real fruit.
Another pointer for parents is to ditch the sippy cups and opt for a cup that has a straw. When a child drinks from a sippy cup, they allow their teeth to be exposed to the juice sugars over a long period of time which can lead to tooth decay.
Help create healthy habits for your children — they will follow your example – if you consume water they will, too!
Jon Frankel Dentistry (Toledo)
5012 Talmadge Road, Toledo, OH 43623
Phone: (419) 474-9611 | Fax: (419) 474-1902
Hours
| | |
| --- | --- |
| Monday & Tuesday: | 7:30am -8:00pm |
| Wednesday & Thursday: | 7:30am -5:00pm |
| Friday: | 7:30am -2:30pm |
| Every other Saturday | 8:00am – 12:00pm |
---
Frankel & Puhl Dentistry (Maumee)
4359 Keystone Dr, Maumee, OH 43537
Phone: (419) 893-0221 | Fax: (419) 893-3255
Hours
| | |
| --- | --- |
| Monday – Wednesday : | 8:00am – 5:00pm |
| Thursday: | 8:00am -7:00pm |
| Friday: | 8:00am -2:30pm |
| Every other Saturday | 8:00am – 12:00pm |