It has been quite a year of growth and ownership mindset for our teams!
Frankel Dentistry has spent the last 75 years serving our Northwest Ohio community through excellent patient care and the best dental care experience. We have felt overwhelming love and support from patients as we have spent time watching them grow, achieve their goals, and start families of their own. The relationships we've built with patients are the foundation of our success and drive. Driven to serve all with an always better mindset, we are excited to share that we have expanded and added two practices to our ESOP! We'd like to introduce you to Foundation Dental out of Canton, Oh and Firestone Family Dentistry out of Akron, Oh. Frankel Dentistry is thrilled to bring the best dental care experience to our Northeast Ohio communities.
On Friday, we celebrated with all our Ohio team members at the Renaissance Hotel in Downtown Toledo. Over 200 employees, spouses, trustees, and speakers gathered to discuss and celebrate their future with employee ownership!
Drs. Frankel and Puhl opened our night highlighting peaks in our year past, acknowledging our employees whose dedication should never go unnoticed and introducing our newest partners Foundation and Firestone Dentistry.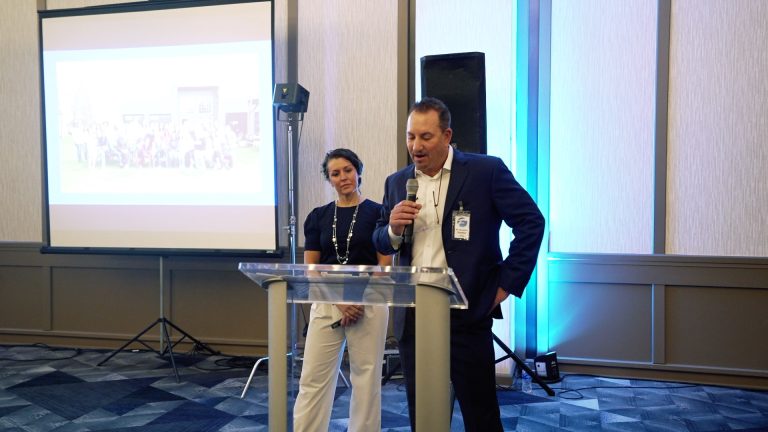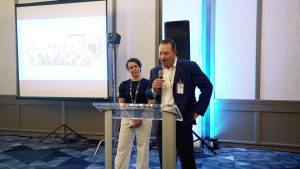 We were fortunate enough to have ESOP trustee, Steve James join us to review how we've grown as an ESOP and how an ESOP compares to other employee benefits and saving plans. Let's just say the future's so bright, I gotta put shades on.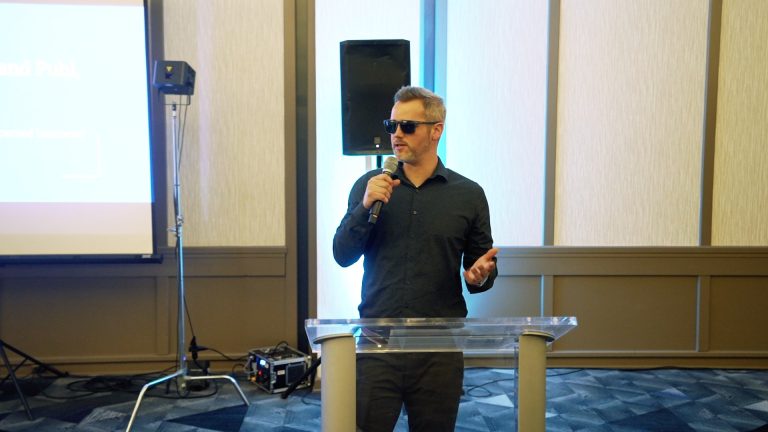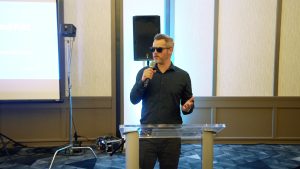 As we bring in new team members, we want to remind ourselves how we are one company, one team, one mission. Pete Honsberger, Lead Facilitator for CultureShoc out of Cleveland, spoke with us on unity, team morale, and how we can build with one another. We are excited to welcome Foundation Dental and Firestone Dentistry to our practice, we even have Dr. Sarah Oliverio and Dr. Lynn Wellman joining our leadership team.
We spent the evening enjoying dinner, drinks, photo booths, gifts, and dancing. Gratitude always, we gifted our teams some new Frankel Dentistry swag as a thank you for their kindness and dedication to their team members. Kurt Nielsen provided not one but two photo booths! He now offers a mobile photo booth with custom photo frames! These are photos we can look back on and remember the beginning days of our journey as an ESOP.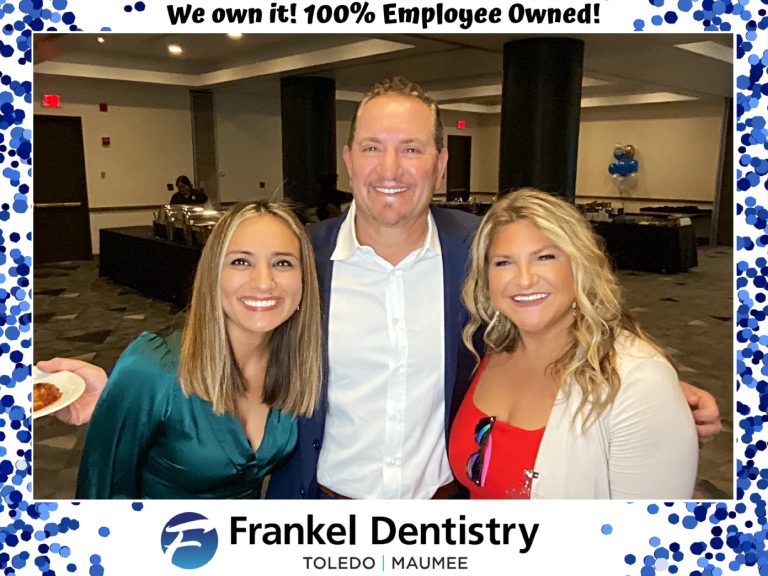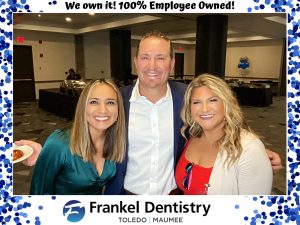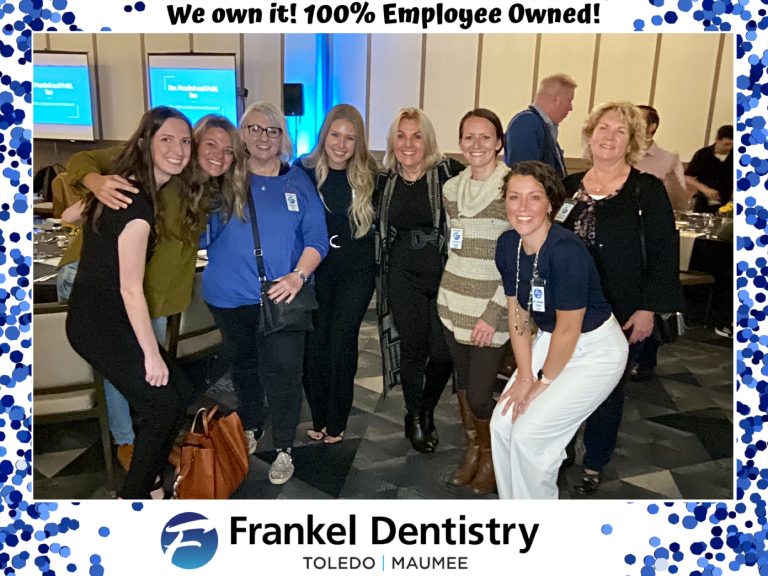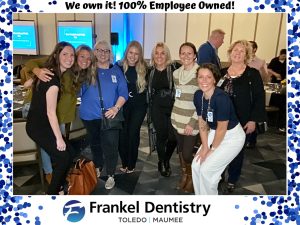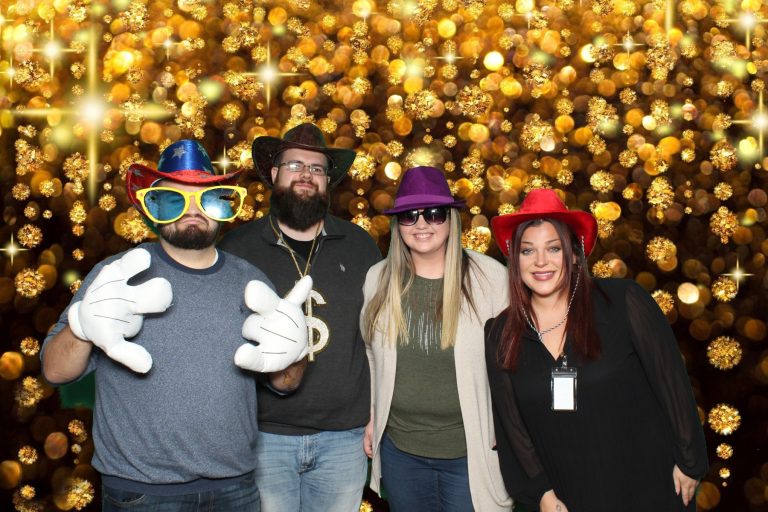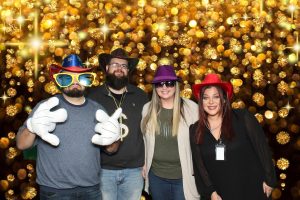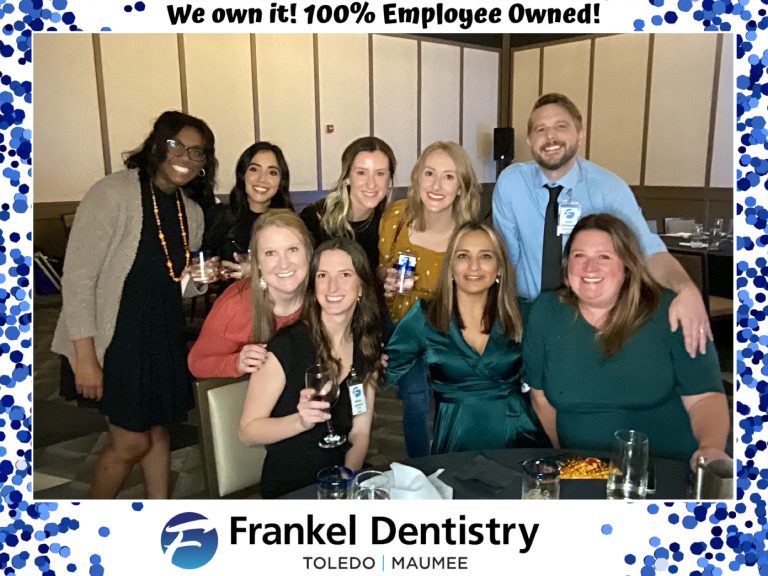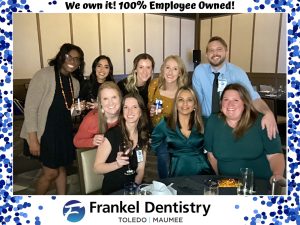 There truly is something special about loving your workplace and loving the ones you work with. We couldn't be more grateful to serve our NW Ohio community with teams who are so passionate and dedicated to excellent patient care. We can't thank Dr. Frankel and Dr. Puhl enough for gifting us their company. Grateful to serve with you. Looking forward to another year of growth and Changing Lives a Smile at a Time!
Jon Frankel Dentistry (Toledo)
5012 Talmadge Road, Toledo, OH 43623
Phone: (419) 474-9611 | Fax: (419) 474-1902
Hours
| | |
| --- | --- |
| Monday & Tuesday: | 7:30am -8:00pm |
| Wednesday & Thursday: | 7:30am -5:00pm |
| Friday: | 7:30am -2:30pm |
| Every other Saturday | 8:00am – 12:00pm |
---
Frankel & Puhl Dentistry (Maumee)
4359 Keystone Dr, Maumee, OH 43537
Phone: (419) 893-0221 | Fax: (419) 893-3255
Hours
| | |
| --- | --- |
| Monday – Wednesday : | 8:00am – 5:00pm |
| Thursday: | 8:00am -7:00pm |
| Friday: | 8:00am -2:30pm |
| Every other Saturday | 8:00am – 12:00pm |