Social media has become an indispensable part of our lives. From connecting with friends and family to staying updated on the latest trends, social media has permeated every aspect of our society! Needless to say Frankel Dentistry is also "filling" feeds with a blend of informative and fun content!
But you're a dental office, why do you use social media?
Our Frankel Dentistry Facebook and Instagram accounts offer a behind-the-scenes look into our practice, showcase remarkable full mouth rehabilitation cases, and help us foster stronger connections with patients!
Social media is a tool! Educating patients is crucial for building trust and creating a positive dental experience! On Facebook and Instagram, we consistently share informative content that covers various dental topics, oral hygiene tips, and the latest advancements in dental care. From explaining the importance of regular dental check-ups to providing guidance on maintaining oral health at home, our posts focus on empowering patients with knowledge and healthy smiles!

BTS Fun!
We also use social media to give patients and potential patients a look into our practice!
Frankel Dentistry's social media accounts take patients behind the scenes of our practice. Through vibrant photos and engaging videos, we want to showcase the warm and welcoming environment of the dental office. Patients get to see the friendly faces of the staff, witness the state-of-the-art equipment, and gain insight into the processes that go into providing the best dental care experience. Much like keeping in touch and staying in the know with friends and family. Frankel Dentistry uses social media to help make patients feel like part of our Frankel Dentistry family!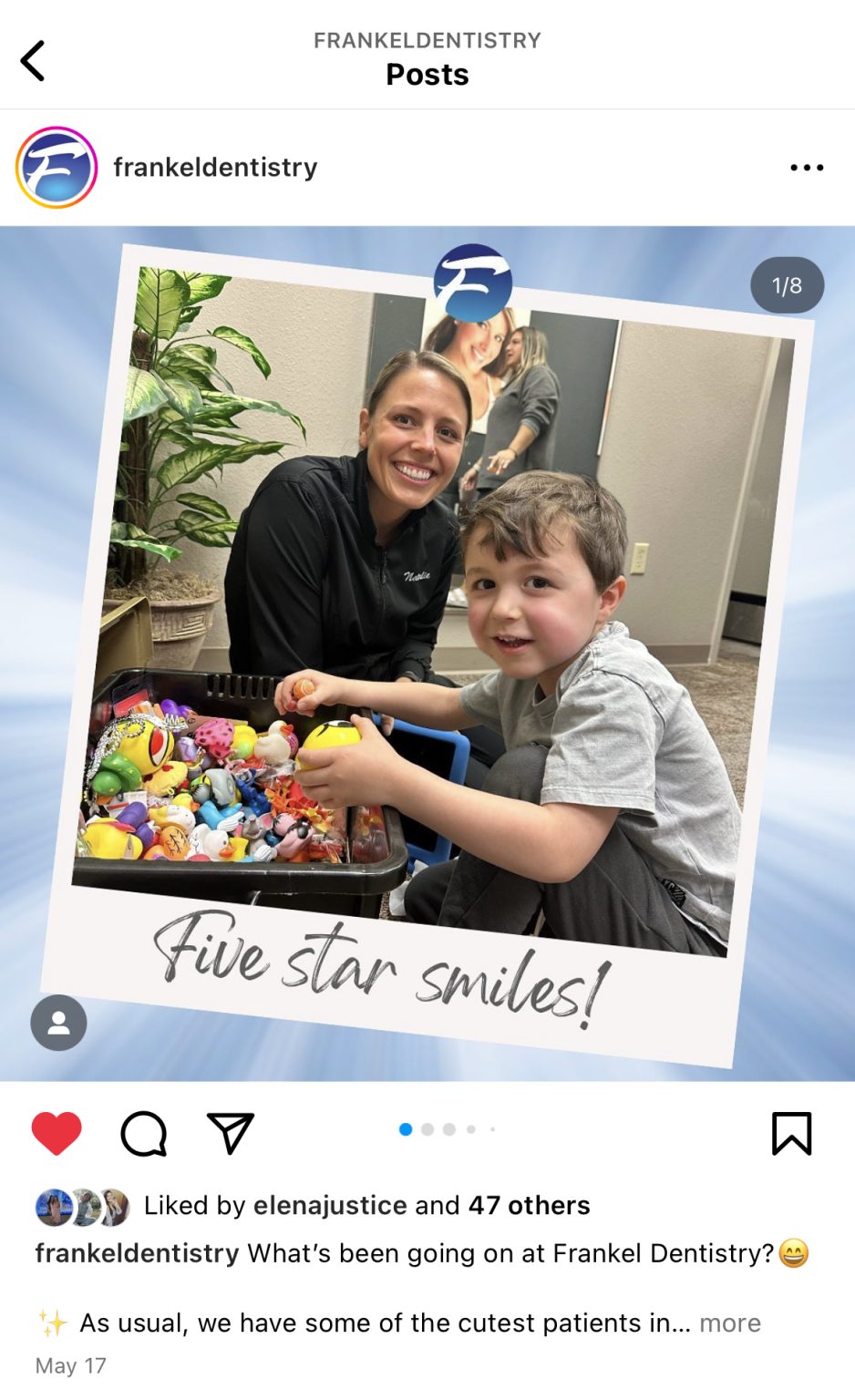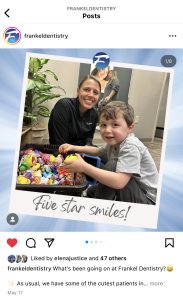 In the Loop!
Beyond the informative and case-related content, Frankel Dentistry's social media accounts focus on creating a genuine connection with patients! We frequently engage with our audience through likes, comments, responding to inquiries and fostering conversation! By actively listening and providing personalized responses, make our patients feel heard and valued. We also regularly feature patient testimonials and stories, highlighting the positive experiences and outcomes of their treatments! Social Media is one of the best tools to help us strengthen relationships with our patients!
Are We Friends Yet?
We would love for you to follow, like, and comment along with our social platforms!
You can find both our offices on Facebook!
Toledo: Jon Frankel Dentistry
Maumee: Frankel & Puhl Dentistry
We are also on Instagram at Frankel Dentistry. For the month of June we are hosting a raffle for a brand new Sonicare toothbrush. All you have to do to enter is follow us on Facebook or Instagram! Step up your brush game and follow us on social media!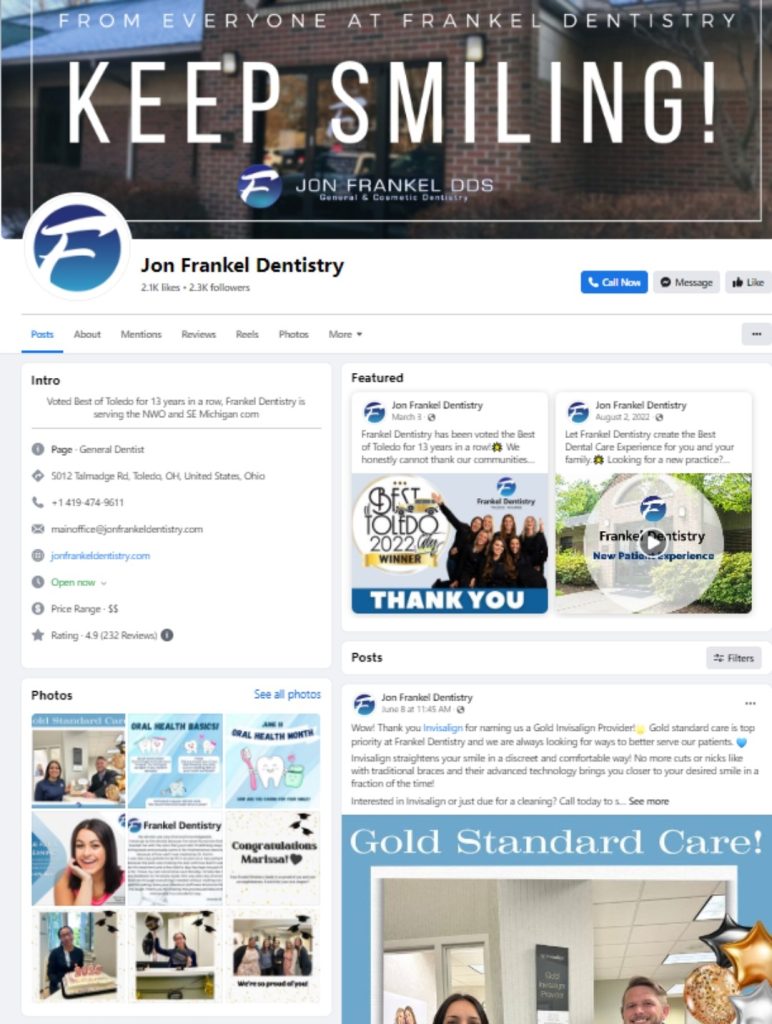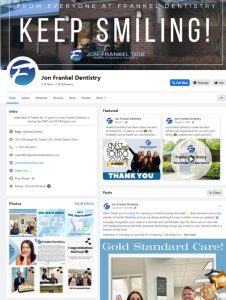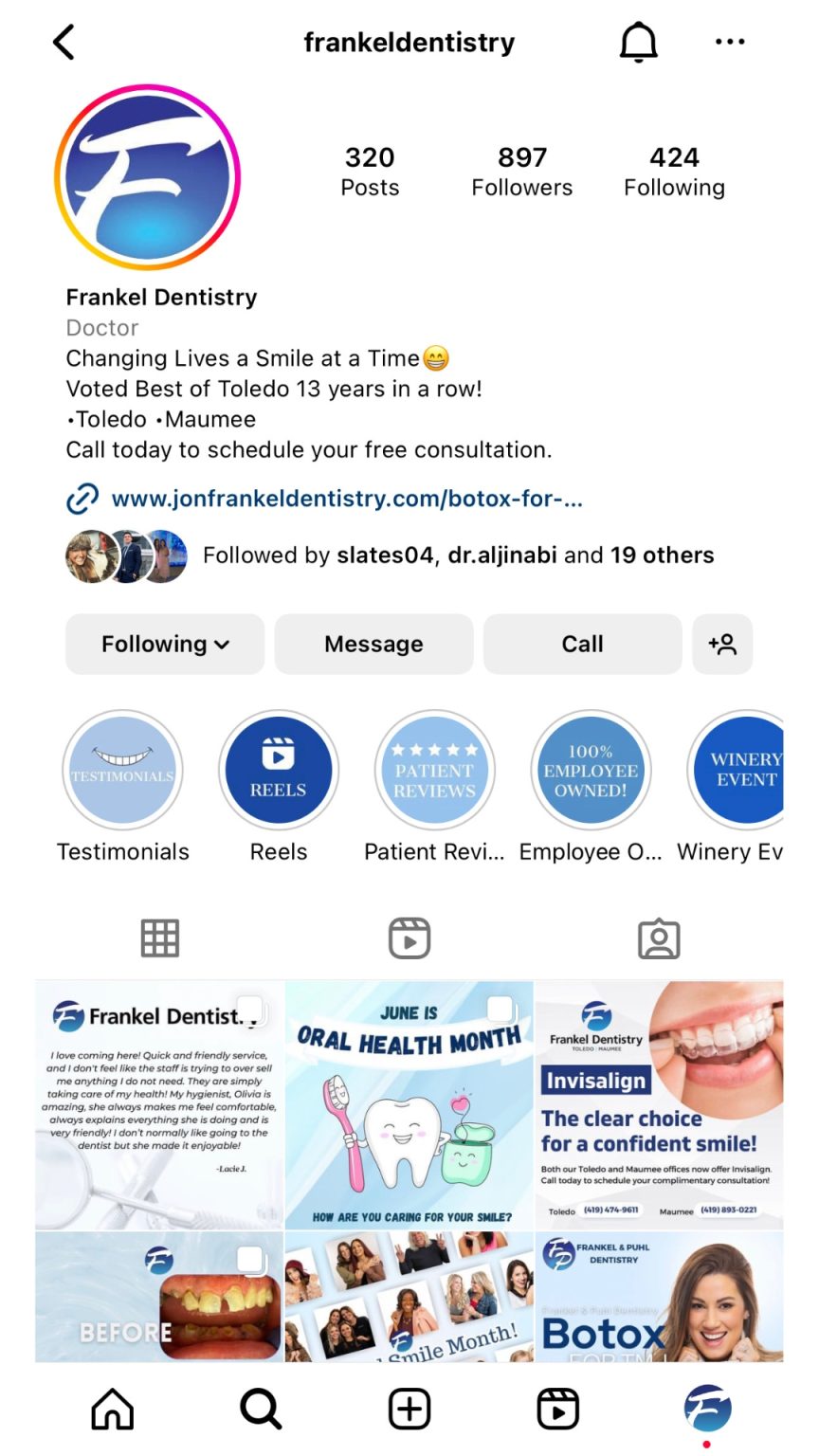 Jon Frankel Dentistry (Toledo)
5012 Talmadge Road, Toledo, OH 43623
Phone: (419) 474-9611 | Fax: (419) 474-1902
Hours
| | |
| --- | --- |
| Monday & Tuesday: | 7:30am -8:00pm |
| Wednesday & Thursday: | 7:30am -5:00pm |
| Friday: | 7:30am -2:30pm |
| Every other Saturday | 8:00am – 12:00pm |
---
Frankel & Puhl Dentistry (Maumee)
4359 Keystone Dr, Maumee, OH 43537
Phone: (419) 893-0221 | Fax: (419) 893-3255
Hours
| | |
| --- | --- |
| Monday – Wednesday : | 8:00am – 5:00pm |
| Thursday: | 8:00am -7:00pm |
| Friday: | 8:00am -2:30pm |
| Every other Saturday | 8:00am – 12:00pm |