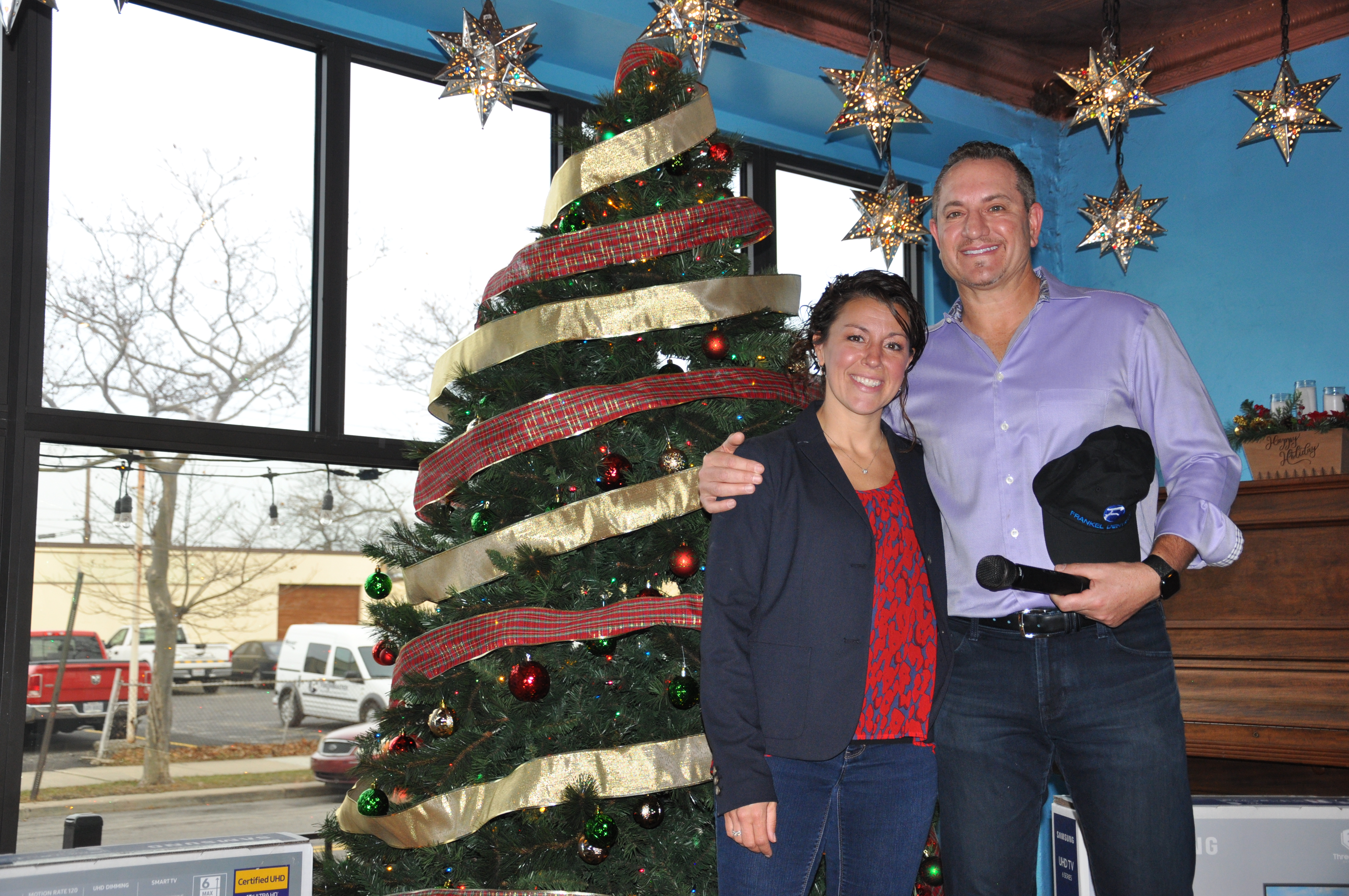 They brush. They floss. Oh boy, do they know how to smile!
The best group of doctors, healthcare providers and staff could be found on December 13, 2019 at local restaurant Carlos Poco Loco. The event was their annual Holiday Office Party.  Nearly 90 strong, they gathered from both the Toledo and Maumee locations of Frankel & Puhl and Frankel Dentistry. This group is caring, kind and fun!
Dr. Frankel is Master of Ceremonies for the annual raffle and gift giving. He was introduced with the Frankel Jingle aptly named "Dr. Frankel wants to see your smile." Dr. Frankel and Dr. Puhl generously support their teams with several yearly events ranging from kayaking to axe throwing to personal growth seminars. The Holiday Party is the highlight of a year dedicated to serving all with an always better philosophy for this talented group of professionals.
If you could capture a feeling from this group and their owner/mentors, Drs. Frankel and Puhl, it would be gratitude. While sharing an enjoyable event with each other including a delicious Cuban and Mexican Food Buffet, they know what makes it worth celebrating, caring for the dental health of their patients.
If you would, raise your glass of water, cup of coffee, your cerveza, margarita or mojito and make a toast to Changing Lives a Smile at a Time.
Jon Frankel Dentistry (Toledo)
5012 Talmadge Road, Toledo, OH 43623
Phone: (419) 474-9611 | Fax: (419) 474-1902
Hours
| | |
| --- | --- |
| Monday & Tuesday: | 7:30am -8:00pm |
| Wednesday & Thursday: | 7:30am -5:00pm |
| Friday: | 7:30am -2:30pm |
| Every other Saturday | 8:00am – 12:00pm |
---
Frankel & Puhl Dentistry (Maumee)
4359 Keystone Dr, Maumee, OH 43537
Phone: (419) 893-0221 | Fax: (419) 893-3255
Hours
| | |
| --- | --- |
| Monday – Wednesday : | 8:00am – 5:00pm |
| Thursday: | 8:00am -7:00pm |
| Friday: | 8:00am -2:30pm |
| Every other Saturday | 8:00am – 12:00pm |