At Frankel Dentistry, we recognize that the well-being of our team members directly influences the exceptional care we provide to our patients! Which is why it's so important for us to take care of ourselves! This August we're practicing new and old healthy habits along with prioritizing self care! We're excited to share how our commitment to wellness not only enhances our own lives but also enriches the experiences of those who entrust us with their dental health! Caring for yourself can help you better care for others too! Here are just a few of our team members' favorite ways to care for themselves!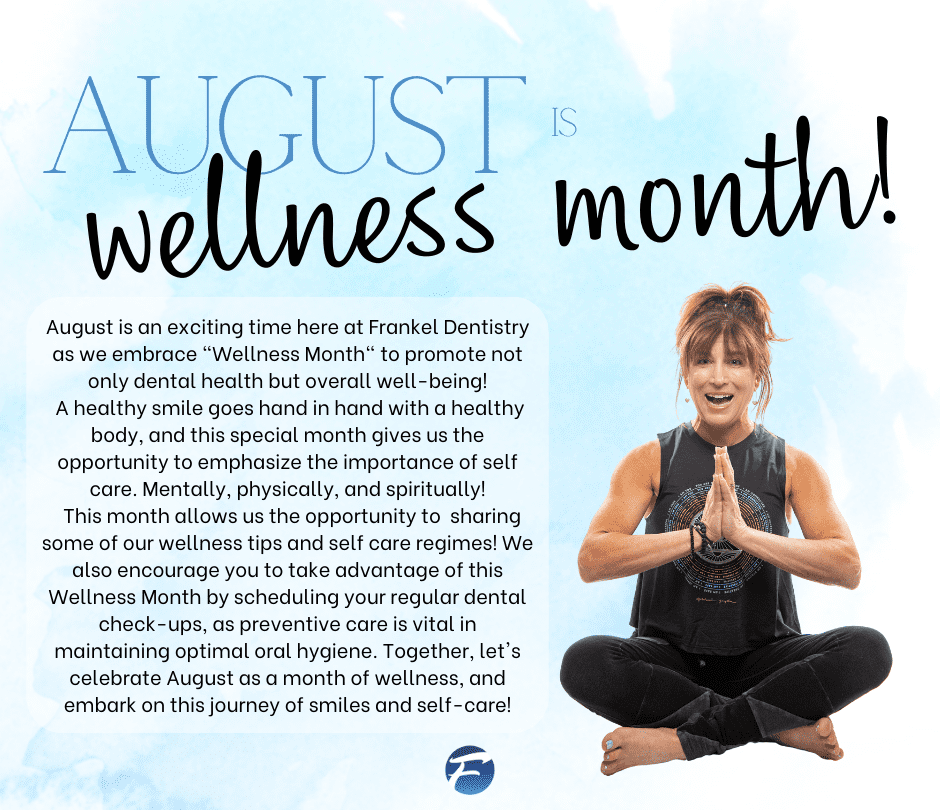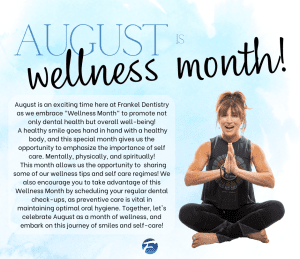 Sheri, Expanded Functions Dental Assistant loves to go to hot yoga twice a week and
pilates three times a week!
Dr. Al Janabi enjoys relaxing by fishing.
Deb Oliver, our hygiene team lead, loves to spend time by the water at least once a week.
Brittany Lopez, our bright eyed and smiley front desk embraces and lives each day with gratitude, encouragement, and trust.
Our Maumee integrator,

Angie,

stays well rested and aims for quality sleep each night!
Pamela Weitzel's secret to staying young and active is making sure to get her steps in! She walks or hikes at least one hour at the Toledo Metroparks at least three times a week.
There is nothing like family. Vicki loves to spend time with her family. On Wednesday's she spends the evenings with her Grandson. Grandchildren are the best for the mind, body, and soul.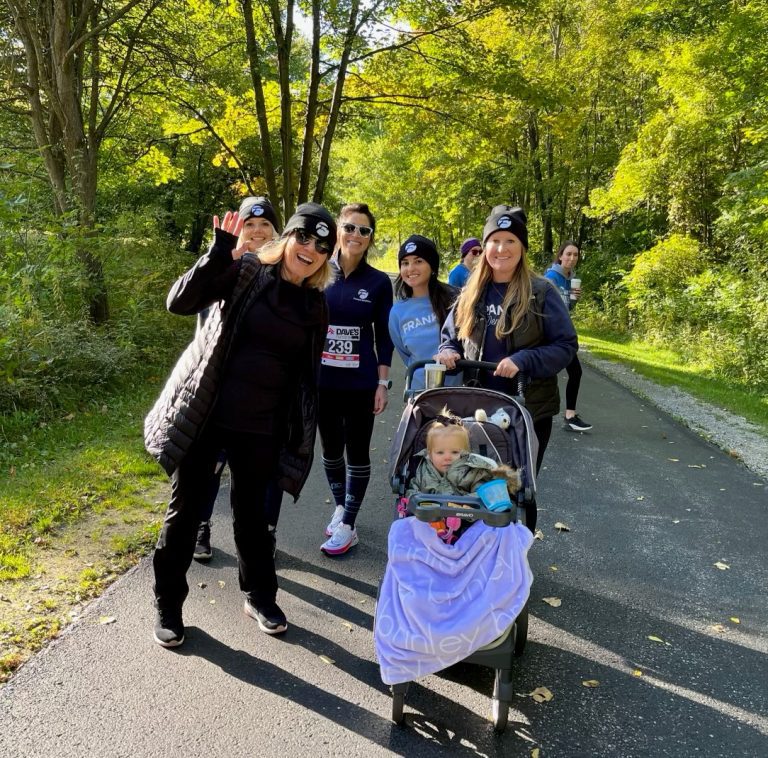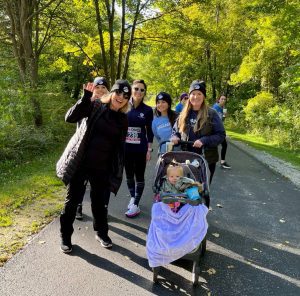 With the fall season and back to school right around the corner, August is the perfect time to hop back into a routine and prioritize your physical, mental, and spiritual well-being. Caring for yourself can help you better care for your loved ones as well. How are you focusing on your well-being?
Want to make your oral health a top priority or due for a dental exam? Contact us today to schedule with us!
Toledo: 419-474-9611
Maumee: 419-893-0221
Jon Frankel Dentistry (Toledo)
5012 Talmadge Road, Toledo, OH 43623
Phone: (419) 474-9611 | Fax: (419) 474-1902
Hours
| | |
| --- | --- |
| Monday & Tuesday: | 7:30am -8:00pm |
| Wednesday & Thursday: | 7:30am -5:00pm |
| Friday: | 7:30am -2:30pm |
| Every other Saturday | 8:00am – 12:00pm |
---
Frankel & Puhl Dentistry (Maumee)
4359 Keystone Dr, Maumee, OH 43537
Phone: (419) 893-0221 | Fax: (419) 893-3255
Hours
| | |
| --- | --- |
| Monday – Wednesday : | 8:00am – 5:00pm |
| Thursday: | 8:00am -7:00pm |
| Friday: | 8:00am -2:30pm |
| Every other Saturday | 8:00am – 12:00pm |